The Inspiration Behind Fitzroy House: In Conversation with Hecker Guthrie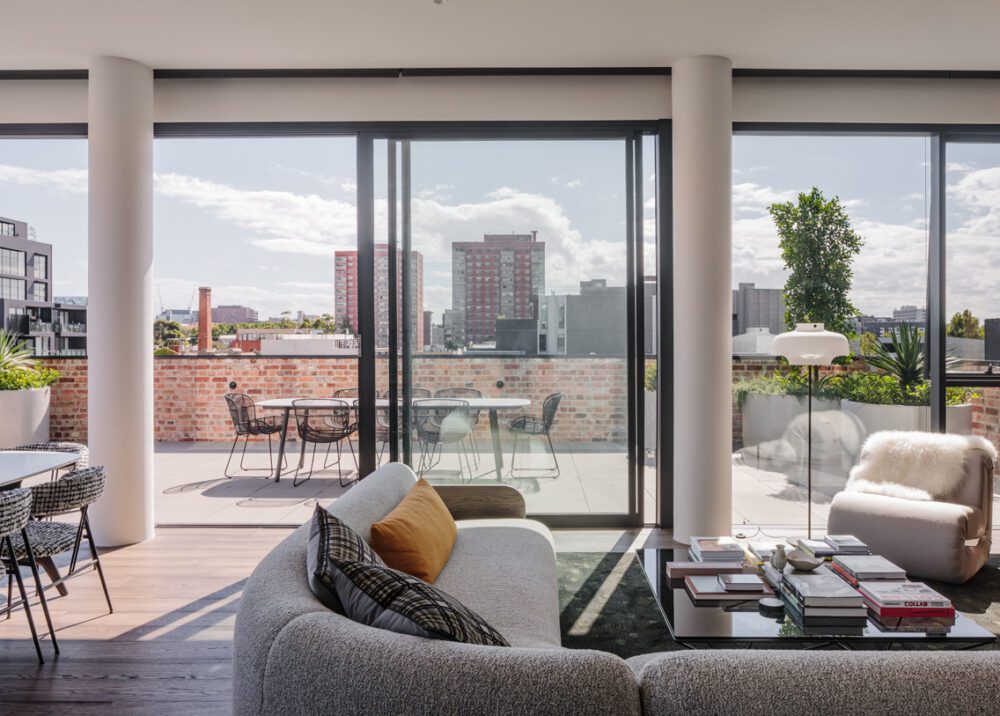 Fitzroy House is a work of art, captivating passers-by with its timeless, evocative façade. But concealed behind the building's arched windows and nostalgic nineteenth-century brickwork, there is a unique collection of homes that are equally as beautiful to behold.
We collaborated with Interior Designer Hecker Guthrie to craft the 34 illustrious dwellings within Fitzroy House. Thanks to our shared innovation and commitment to design, each home is complete with breathtaking interiors and premium, bespoke finishes.
Here, we speak with Paul Hecker, Director of Hecker Guthrie, about his design inspiration for Fitzroy House.
What did you find most intriguing about the site for Fitzroy House?
We were captivated by Michael's vision for this project. He wanted Fitzroy House to celebrate the history and character of the suburb it stood in, while also being synonymous with elegance and luxury. This posed a different kind of design challenge for us; the interiors needed to emulate the personality of the suburb, cater to the Fitzroy client, and redefine luxury living. Michael brought us onboard quite early in the project, allowing us to influence certain elements of the architecture and materiality that would eventually impact the interiors.
What was your inspiration behind the design?
We drew on the physical environment for inspiration. Every suburb in Melbourne is different – not just in terms of what it looks like and the kind of buildings that exist there, but also its community. The people that live there have different experiences, lifestyles and expectations for their homes, so we began the process by thinking 'What does it mean to live in Fitzroy?'.
Fitzroy is quite an eclectic area. As an inner-city suburb, it contains a mix of traditional, industrial and contemporary-style buildings, and it's occupied by an equally disparate group of people. You'll find everyone from intellectuals and students to families, couples and young professionals living there. In order to complement the diverse surroundings, and appeal to a broad group of people, the interiors needed to be beautifully resolved, characterful and capable of adapting to a variety of tastes and lifestyles. We intended to capture the unique personality of Fitzroy without overwhelming residents' opportunity to personalise their own space.
Fitzroy House is easily recognisable for its iconic red-brick façade. How did you go about incorporating the heritage structure into the interiors?
Our aim was to seamlessly integrate the interior design with the exterior architecture. On arrival, you first notice the beautiful Victorian brick facade that sits perfectly with the character of the neighbourhood. From the street you enter the lobby, which is modern yet respectful of the Victorian façade, singular in its palette of brick and timber, and peppered with sculptural furniture and important sculpture and art.
The apartments are calm, simple and beautifully resolved, sometimes rich and moody, sometimes light and airy. We wanted the homes to be both discretely luxurious and at the same time emulate Fitzroy's polished grittiness. They are powerfully designed yet subtle enough to allow residents to easily personalise their homes.
How would you describe the style and aesthetic of the interiors?
The interiors are a nod to the suburb's moody, industrial aesthetic; like Fitzroy, they are polished, but gritty. We chose a dark colour scheme, using materials like dark odyssey stone, rich oak timber furnishings and aged-iron finishes to reference with the building's physical surroundings. Equally, we wanted the homes to have a premium, luxury feel, so we added an array of clean, minimalist features that were elegant and understated. It was a bit of a balancing act – all the elements had to coexist in harmony.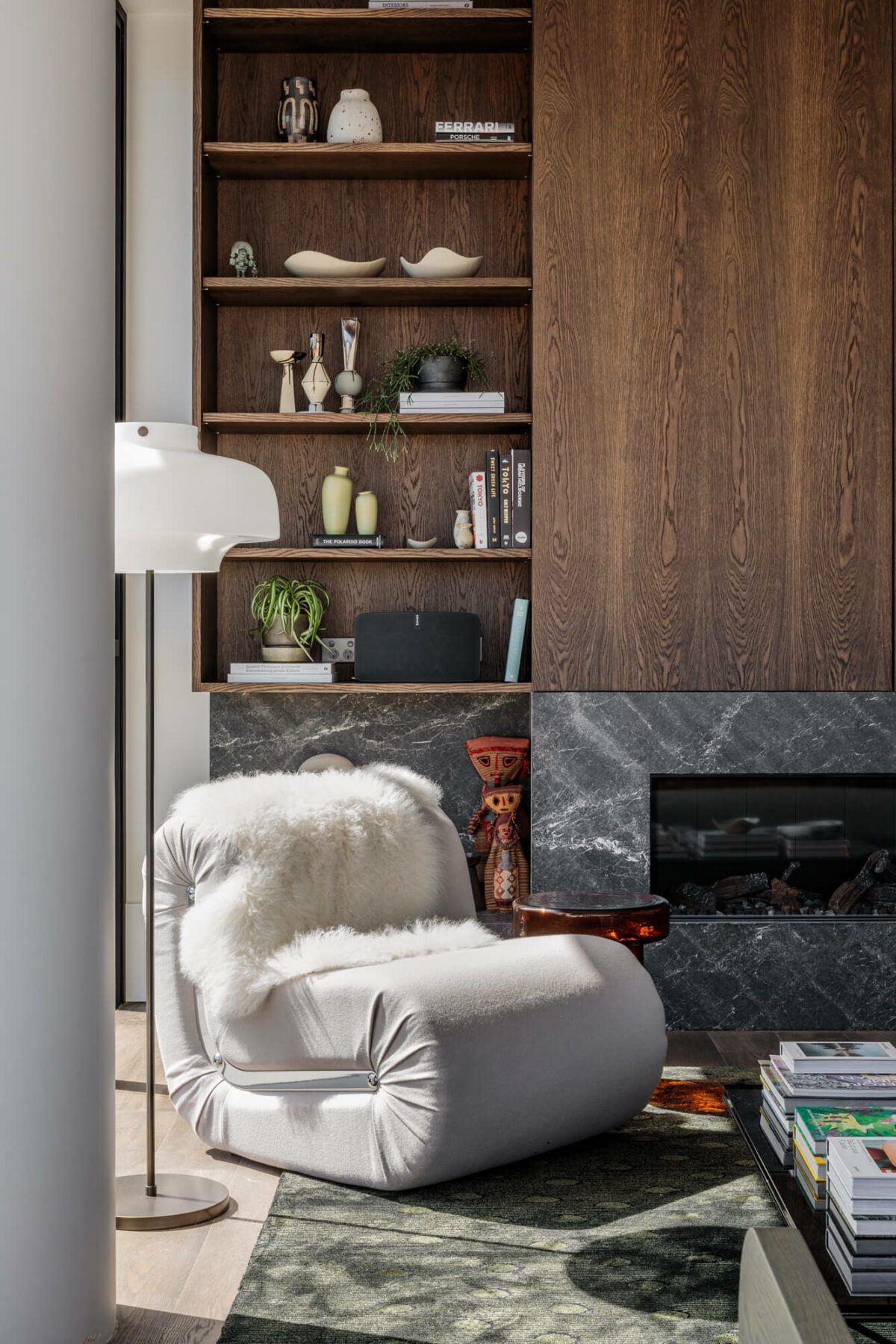 What kind of living experience did you want to create?
It was all about designing spaces that would meet the needs of the people living there. To do this, we focused on all the small details; the lip on the kitchen bench tops, for example, is such a thoughtful addition, because it prevents any spills from running down onto the cabinetry below. Then there are the beautiful stone basins in the bathrooms, the aged iron tapware, the endless storage space, and the premium Gaggenau appliances …there are all kinds of small, considered moments throughout each home that make them more usable, more elegant.
When you walk inside Fitzroy House, your first thought is 'this is a beautiful space' – but then when you start to use the kitchen, or the bathroom, or the living areas, you realise how well they work. There was so much planning that went into them; with the help of Piccolo, we explored every detail and committed to creating really workable solutions that ultimately benefit the end-user.
What do you love most about working with Piccolo?
When we work with Piccolo, we never have to compromise on beauty or quality. Michael is the biggest advocate for the end-user; he's very hands-on throughout the process because he wants to find solutions that are going to benefit the person who will eventually live there. As designers, that's something that we really value – we want the spaces we create to be as beautiful and as livable as possible, and with Piccolo, we are never disappointed.
The fact that Michael hands over the keys to his clients and personally walks them through their new home is testament to the quality of Piccolo homes. It shows that he's proud of the finished product, that it's about more than just a financial transaction. It's moment like those that just fill us with confidence – even though we've worked with Piccolo many times now, they still manage to impress us.