Fitzroy House
Edition 2/6
71–75 Argyle Street, Fitzroy
Collaborators: Architecture by Jackson Clements
Burrows, Interior Design by Hecker Guthrie
Completion: 2021
Fitzroy House
2023
Shortlisted for Apartments (Mid-Rise)
UDIA Victoria Award for Excellence 2023
2023
Awarded Silver in Architecture – Multi Residential – Constructed
Finalist for Best Residential Development
Property Council of Australia Awards for Innovation and Excellence
2022
Awarded GOLD in Architecture – Multi Residential – Constructed
Finalist Development of the Year – Medium Density Residential
The Urban Developer Awards for Industry Excellence
Shortlisted for Residential Architecture - Multiple Housing
Australian Institute of Architects Victorian Architecture Awards
2020
Winner Identity and Branding
2019
Shortlisted for The Multi-Residential Building Design Award
Fitzroy House is an icon of modern sophistication and meticulous design. A collaboration between Piccolo, JCB and Hecker Guthrie, this collection of one, two and three-bedroom apartments is a masterful blend of heritage and contemporary in a coveted pocket of inner-city Melbourne.
"The significance of this building to the local landscape and history adds a character and depth to this project that wouldn't be possible if you were starting from an empty site. Bringing that to life and adding layers, turning it into a home that people will love and add their own history, is a source of great pride for us."
Respect for the site's heritage and intrinsic excitement for the future underpinned the design of Fitzroy House. Together with JCB and Hecker Guthrie, our design approach sensitively frames the existing building, positions it within its historic neighbourhood – and sets a benchmark for its next stage.
Bluestone foundations and windowsills, arched windows and door openings, faded signage, a prominent chimney and the iconic red brick façade – the first four storeys of Fitzroy House pay homage to its origins as an 1880s bootmaker's shop. Rising above this are three set-back levels that deliberately hero the historic; a white box with sliding springs appearing as an ethereal floating object.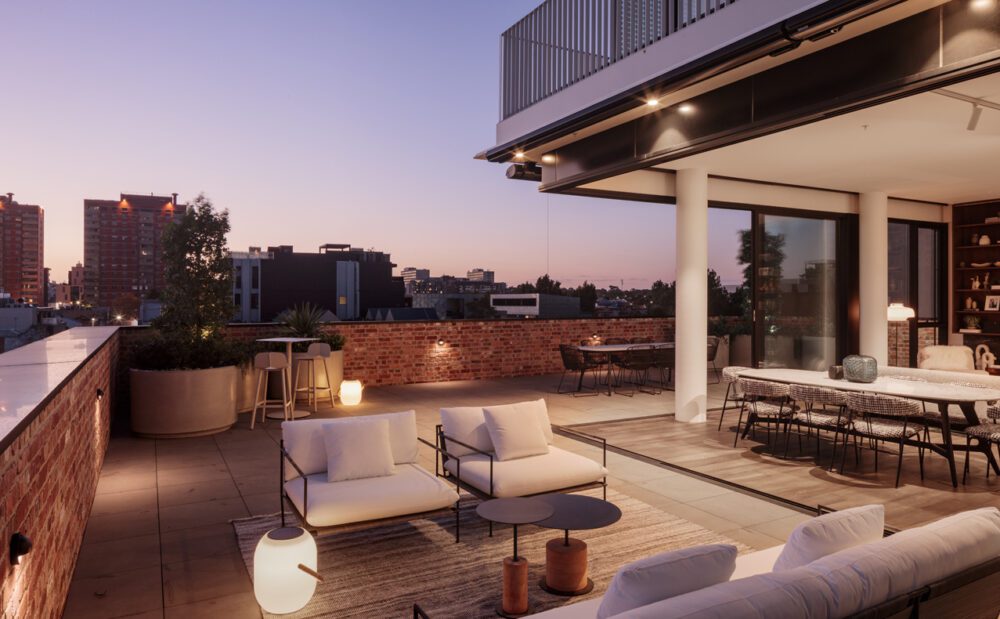 Our appreciation for the site's history is reflected in the interiors. Together with Hecker Guthrie we crafted spaces that combine Fitzroy's enduring position in the Melbourne story with its effortlessly cool contemporary style. Glass panels were given a dark tint as a nod to the neighbourhood's grit and tenacity and are complemented by premium dark, rich materials – black odyssey marble walls and tiles, European oak timber joinery, aged iron finishes and fluted glass. Ceilings soar at 3.3 metres and the high, curved windows pay homage to the history while flooding the residences with light.
The prevailing sense of place is critical to the Fitzroy House community, attracting long-term home-owners who are strongly invested in the project's success.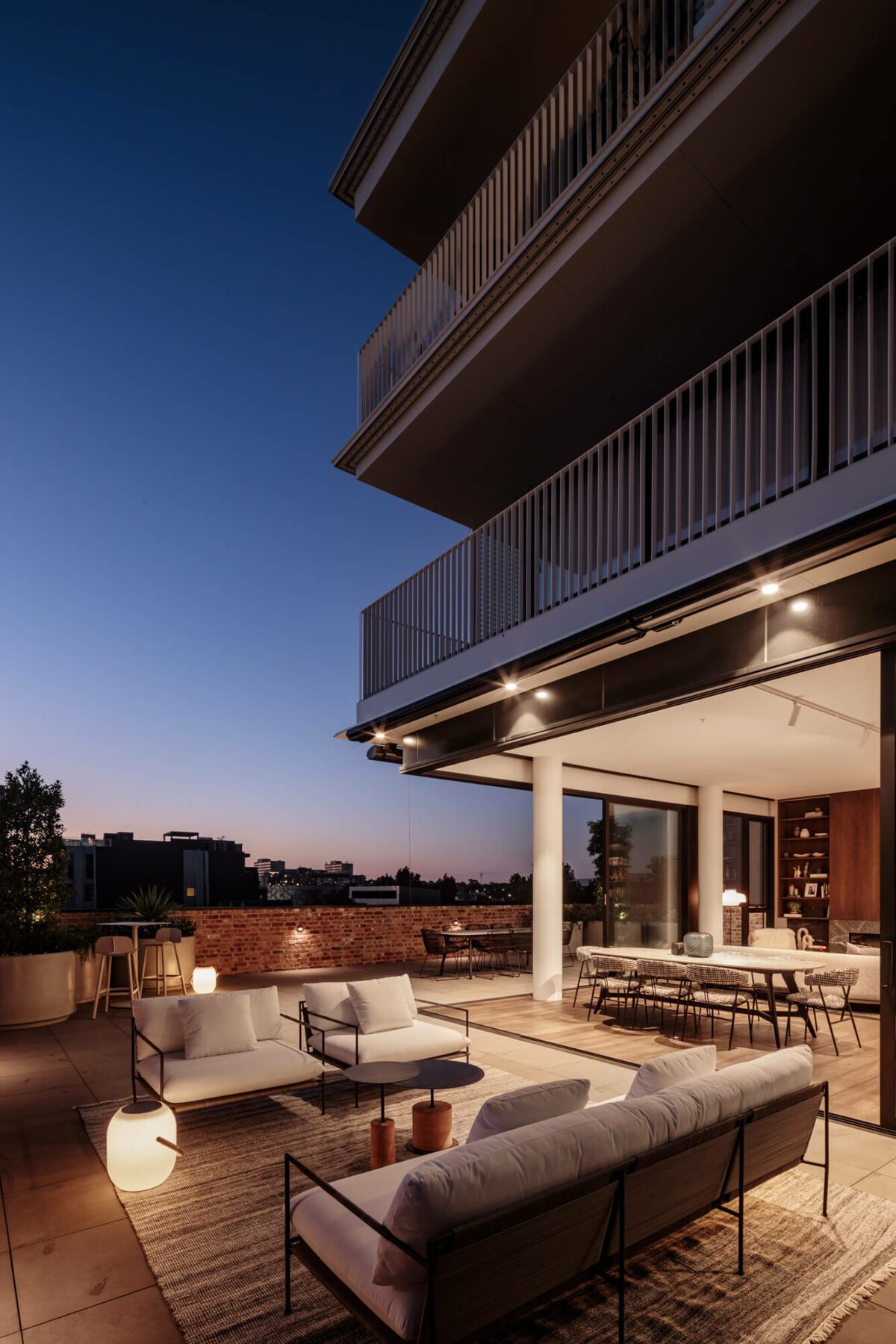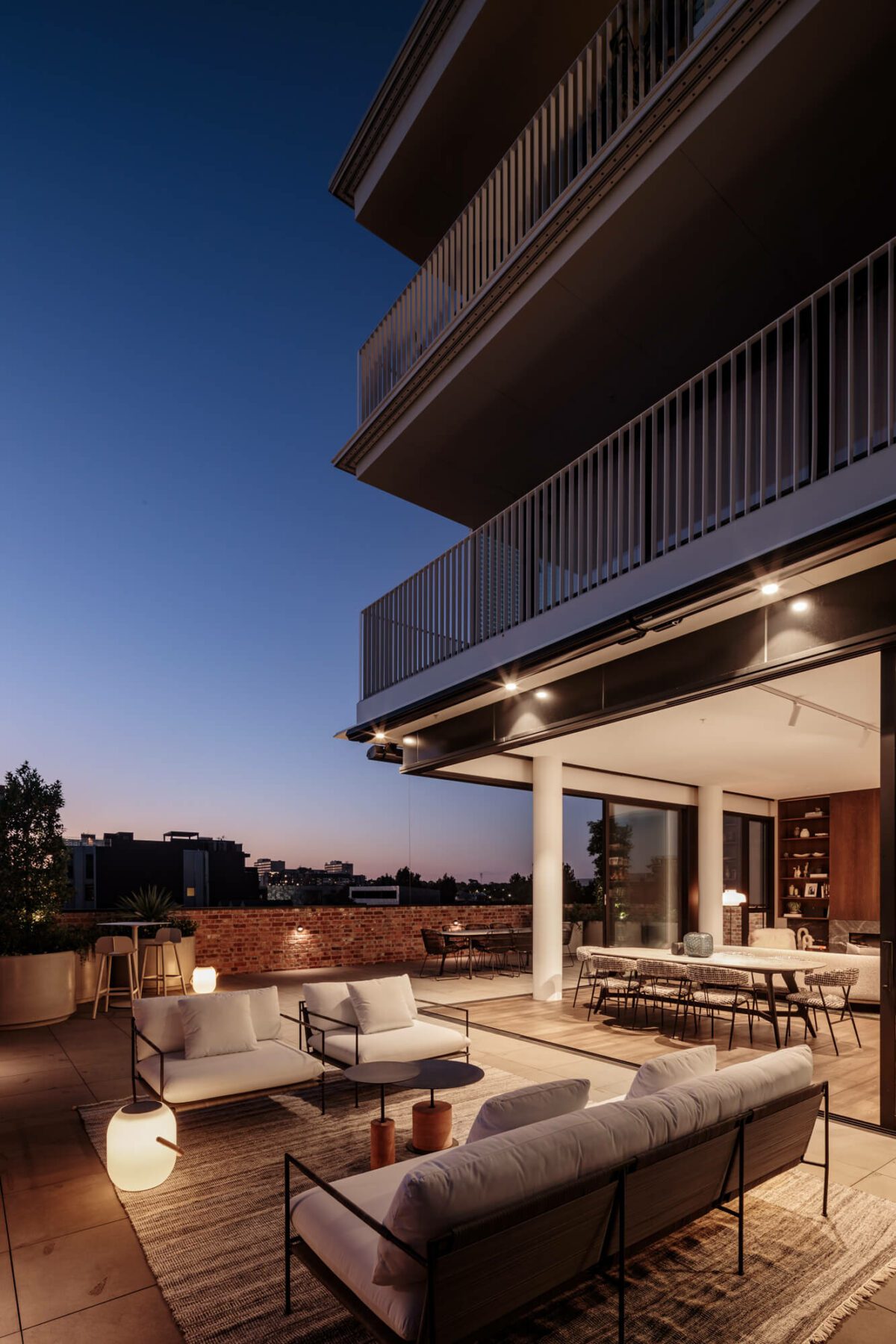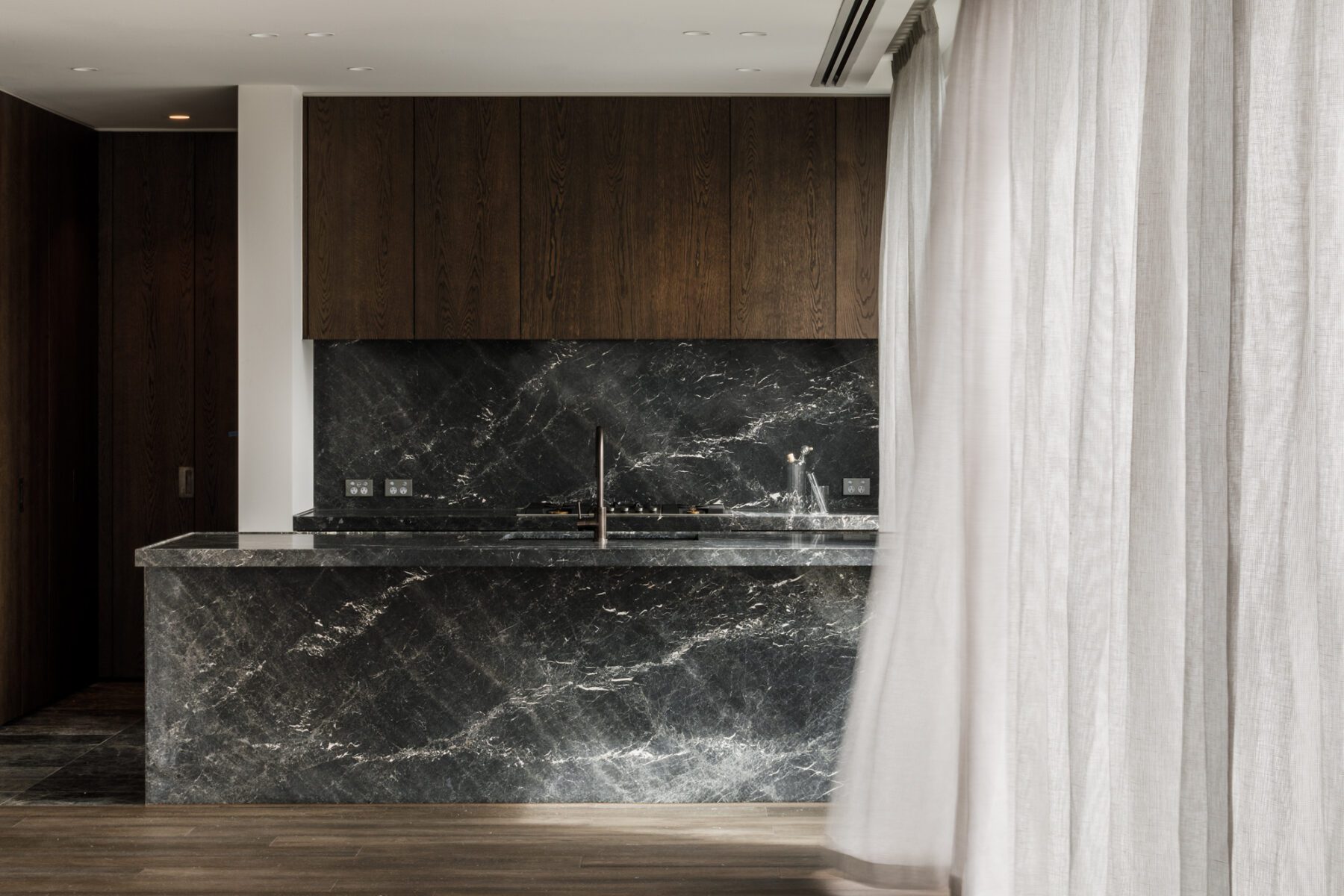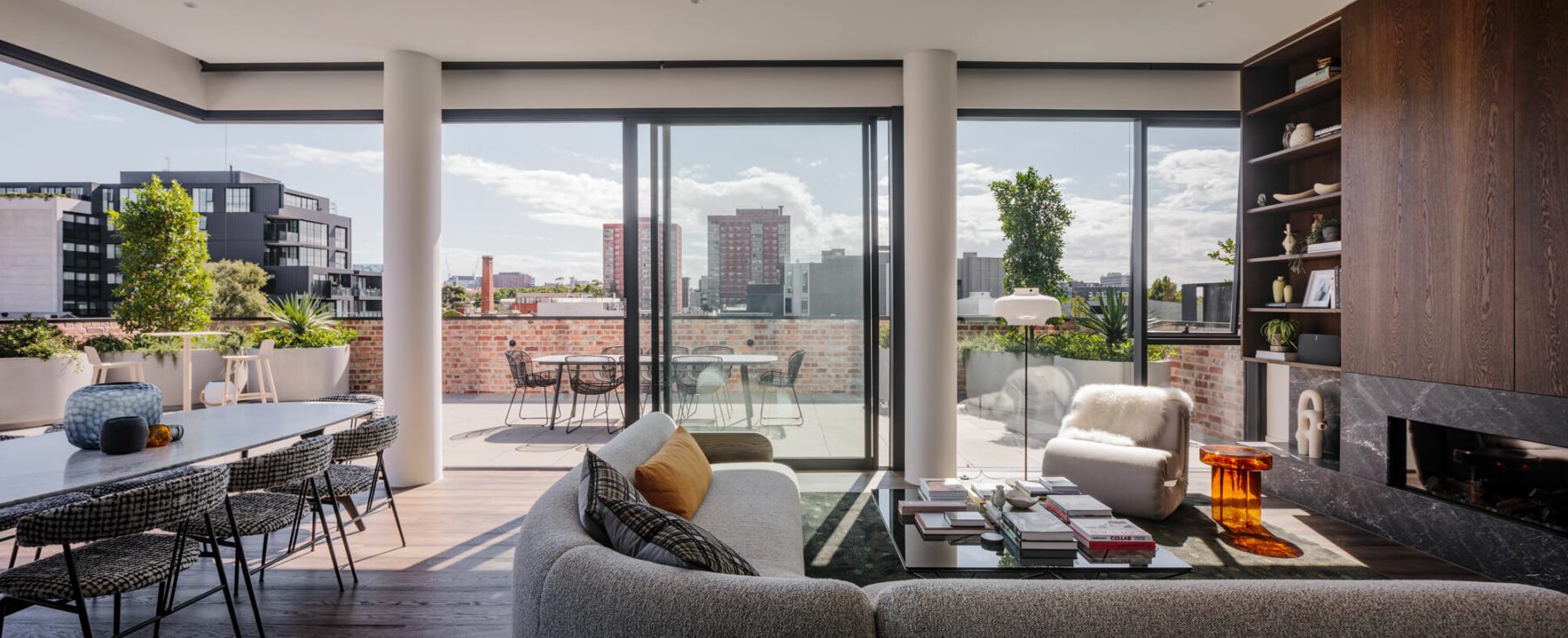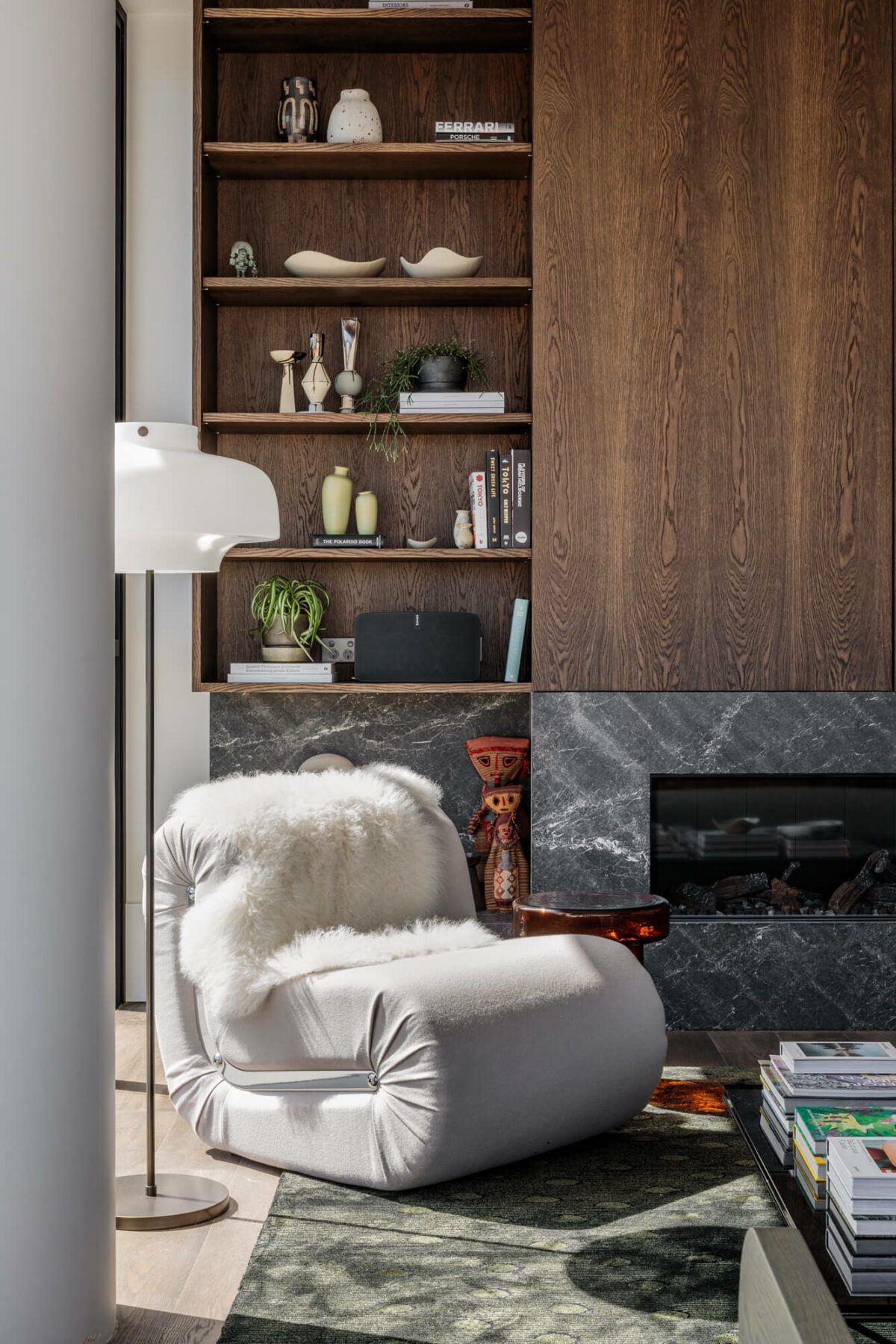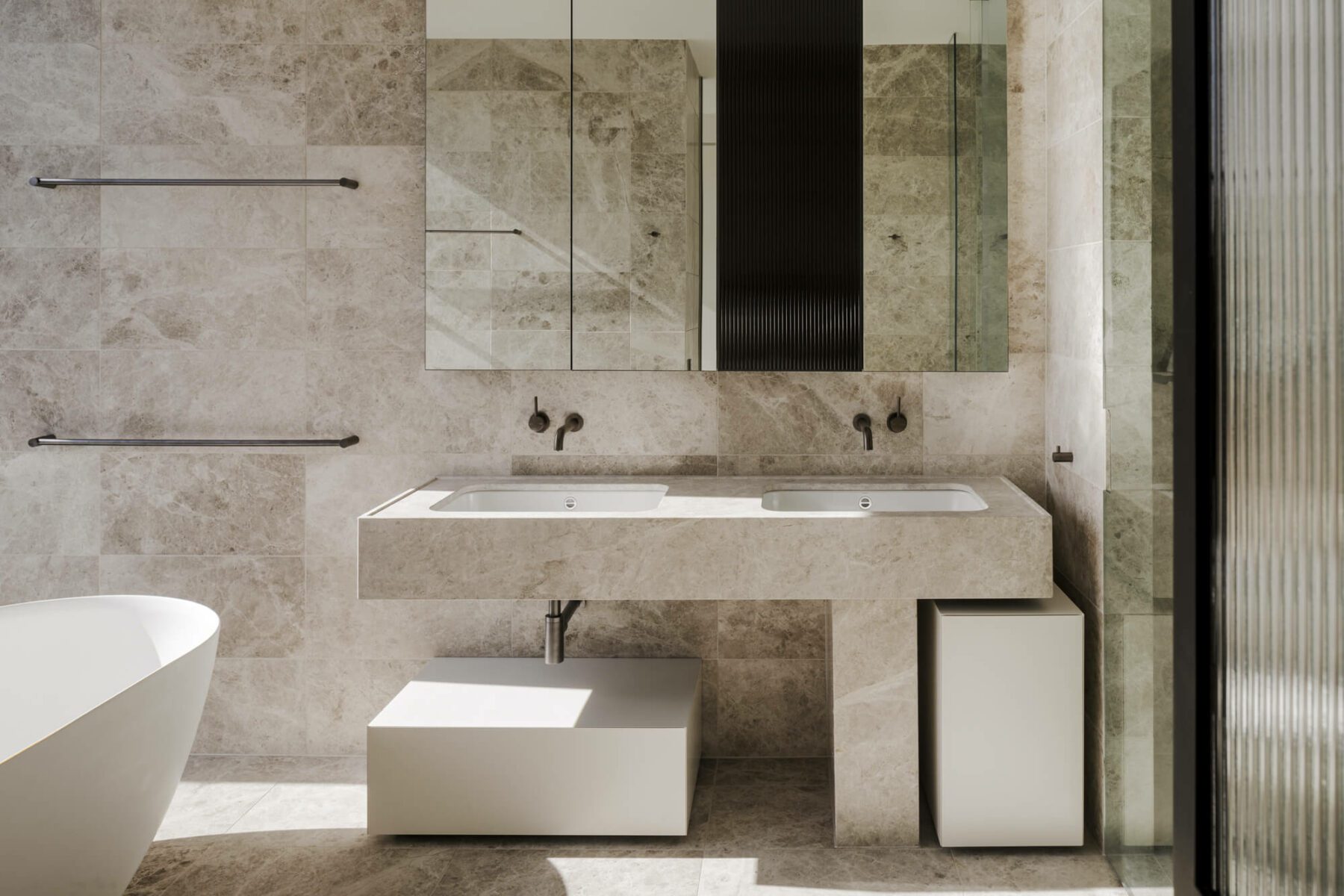 Hecker Guthrie's trademarked touch of luxe is evident via rich materiality choices – black odyssey marble walls and tiles, European oak timber joinery, aged iron finished, fluted glass and customisable modules.